How to Remove Stickers from a Car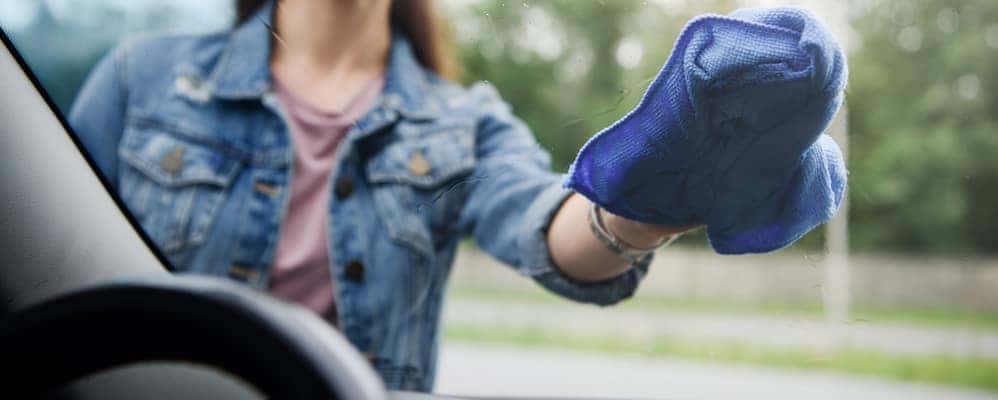 Maintaining a used car is no easy task, and drivers from all walks of life may need to learn how to remove stickers from a car at one point or another. Whether you're cleaning up after a previous owner or moving things around to make a better first impression, the process can be easy and painless! We want to help you with all of your DIY car care needs, from removing stickers to cleaning floor mats and interiors.
How to Get Stickers off a Car Body
If you'd like to get stickers off a car body without damaging the paint, you'll need the following products on hand:
A standard-issue plastic card
Goo Gone Automotive or a basic tree sap remover
A clean, dry microfiber towel that won't scratch your paint
Car washing soap
Hairdryer
Then, follow these steps to get the job done right:
Use the car soap to wash the entire area
Set the hair dryer to 'hot.' Holding it two or three inches away from the car, work from inside to outside to heat the sticker.
With the sticker properly heated, use your plastic card to peel the sticker from the surface. Repeat the washing and heating process if necessary.
Many drivers feel as though they don't know how to remove sticker residue from a car, but it's not as difficult as it seems. Just apply the tree sap remover or the Goo Gone Automotive and use the dry cloth to wipe it all away.
How to Get Stickers off a Car Window
The process differs if you're trying to remove stickers from a car window. The sticker may be harder to remove, but since you don't have to worry about damaging the paint, you can use a razor blade instead of a plastic card, and regular dish soap instead of a specialized product. Note that you should never use a blade on the inside of a tinted window.
In order to start the process, you'll require each of the following:
Dish soap and hot water
Razor blade
A clean, dry towel
Rubbing alcohol
With this equipment in hand, you're ready to get started:
Use the razor blade to remove as much of the sticker as you can.
If you can't remove the whole sticker, wash the area with dish soap and hot water. This may remove the rest of the sticker.
If residue remains after you've washed the area, simply repeat steps one and two until the process is complete.
If you don't have any luck with the razor blade, soap, and hot water, try taking some rubbing alcohol to the adhesive residues. Make sure to remove any excess rubbing alcohol with the clean towel after you're finished.
Get the Car Care Tips You Need with Cactus Jack's Auto!
Now that you've seen how to remove bumper stickers, find out how to protect your car in a storm, how to remove smoke smell, or how to read a tire sidewall! If you have any questions while performing these or other tasks, don't hesitate to reach out to the team at Cactus Jack's Auto. Have a mold issue in your interior? Learn how to remove mold from a car or how to be more fuel-efficient with us! While you're here, you can also compare the Chevy Cruze with the Chevy Malibu to see which sedan is better for you!
Save on Service
We are currently updating our Specials. Please check back soon.
Learn More with Cactus Jack's Auto
Maintaining a used car is no easy task, and drivers from all walks of life may need to learn how to remove stickers from a car at one point or another. Whether you're cleaning up after a previous owner or moving things around to make a better first impression, the process can be easy and…

No one wants to find out that their car is full of mold, but if you've noticed discolored fabric or the smell of sour milk, then it's too late for denial. You may be tempted to avoid the problem with seat covers and an air freshener, but if you notice the sight or smell of…

Apply for Financing What Does Liability Insurance Cover? Whether you're been referred to us by a friend or are already the happy owner of a Cactus Jack's used car near Tucson, we're happy to help you out with this list of auto maintenance tips for drivers throughout greater Phoenix: Know your car maintenance schedule. –…