Popular Hiking Trails Around Tucson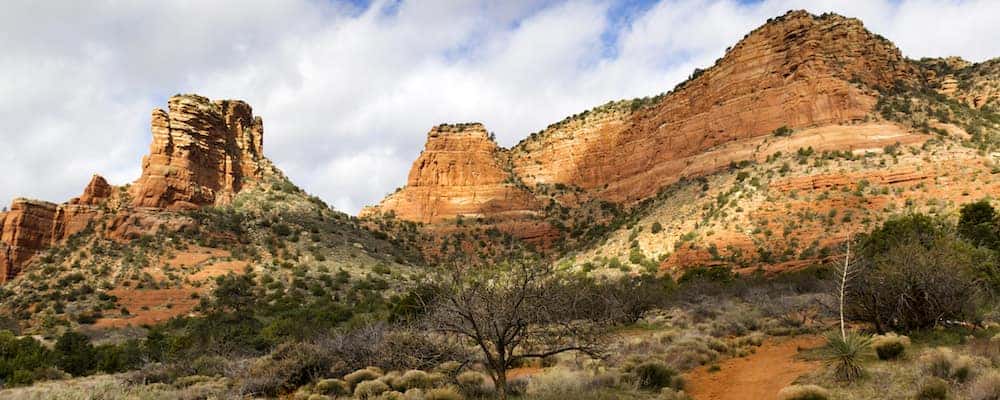 When you visit a state as gorgeous as Arizona, you owe it to yourself to explore the scenery! And while there are tons of wonderful parks in Mesa and landmarks in Phoenix, hiking in Tucson is an experience like no other. What are the most popular hiking trails around Tucson? The folks at Cactus Jacks would love to share our top spots for hikers of all ages and skill levels. Read on to find your next destination and start planning your trip to Tucson today!
Seven Falls
Located just a short drive north of Tucson, Seven Falls is one of the most popular hiking destinations in the area – thanks to its breathtaking views and natural beauty. You can take your choice of many different trails to explore the area by foot and on a hot day, you can even enjoy the cool waters of the wading area. And of course, be sure to make time to visit the incredible cascading waterfalls that give this area its name.
Tumamoc Hill
If you want a good introduction to the Tucson hiking trails, then. Tumamoc Hills is a perfect choice. This gently sloping 3.1-mile hike culminates in a beautiful view of Tucson. We recommend visiting during sunrise or sunset to see the colors of the city come to life! Not only is this location perfect for a quick hike, but Tumamoc Hill is also home to an 860-acre ecological reserve that is operated by the University of Arizona.
Tucson Mountain Park
Tucson Mountain Park is a wonderful place to explore with a family, because this sprawling 20,000-acre preserve is packed with potential activities. Hike through the many trails and take a pit stop to see historic sites, observation points, and picnic areas on the way. You can also plan a day of horseback riding, hunting, fishing, camping, and more. And if you want to take a closer look at the unique wildlife of Arizona, Saguaro National Park is practically next door!
Find Out More
There are so many things to do in the Phoenix area, but the Tucson hiking trails are not to be missed! But before you tackle the great outdoors, you'll need a great vehicle to handle the dusty roads. Why not check out the most popular SUVs at Cactus Jacks after having breakfast at one of our favorite spots?
More from Cactus Jack's Auto
The Chevrolet Camaro has built a long-time reputation as being an American muscle car with plenty of performance. From its modern revival to its historic past, enthusiasts and experts alike can all agree that when you want a classic American muscle car to peruse the Mesa streets and take to the track, you'll want…

At Cactus Jack's Auto, we pride ourselves on a full inventory of like-new used vehicles, from a wide variety of top-quality automakers. One of our favorite vehicles from years past is the 2013 Hyundai Sonata, a sporty mid-size sedan that got rave reviews from critics when it first debuted several years ago. If you're looking for something…

Whether you're driving around Mesa in a brand new vehicle or you've got a ride that's well-loved, it's important to have a nice supply of emergency items to keep in your car. You never know when your car may unexpectedly stop working or you need to pull over in the event that something major comes…